What is a CRO?
Before you choose a CRO, you first need to know what they are and how they operate. A Contract Research Organization (CRO) is a company that provides support to the pharmaceutical, biotechnology, and medical device industries in the form of research services, outsourced on a contract basis. They can perform many important services that companies may not be able to do in house: biological services, chemistry expertise, formulation help, clinical studies, regulatory help and marketing assistance.
In the 1990s and prior, there seemed to be a negative connotation when talking about CROs and outsourcing, but time has proven that their services are anything but negative. The stigma comes from the impression that the use of CROs show the company is "weak" for needing to outsource. In fact, outsourcing clinical research to CROs is often a great move for a company. The CRO takes care of research and day-to-day activities that would be expensive to carry out in house. This allows the company to focus on other tasks and to develop new treatments.
As CROs have become more popular, and especially now that this stigma has gone away, they have become more involved and more integral to the research process. Over the years, CRO relationships have grown to more closely resemble a partner than a contractor. Companies are starting to appreciate the wide range of services that CROs can offer, and are continuing to utilize them to maximize their efficiency.
How have CROs been involved in the COVID-19 pandemic?
CROs are gaining new business during the COVID-19 pandemic. Organizations using their services want to minimize the danger for their own workforce, but still keep their preclinical pipelines active. Because of this, CROs are in high demand as of now (May 2020) and will continue to aid pharmaceutical and medical device companies as this pandemic unfolds. Only 3% of CRO companies have closed and suspended operations during this pandemic, and of the CROs remaining open, 70% are fully operational. Fully operational refers to all staff present and all (or most) of normal business activities are ongoing.

Even prior to the COVID-19 outbreak, the CRO market has started to evolve into its own major industry, and is continuing to grow. The CRO market will reach a value of $89.06 billion by 2027. Dr Gorski believes that this number may be an underestimate, as so many companies (that wouldn't have otherwise) are using CRO services while the stay at home order is in place.

Top Performing CROs
Because CROs are growing so rapidly, they need to invest back into themselves to grow even more. Some CROs are starting to participate in mergers and acquisitions to make sure their services are the most comprehensive and appealing to clients. In doing so, they are becoming more actively involved in the drug development process. Most of the companies that are reinvesting their profits are the companies that have become big names in the industry. Some top performing CROs one might recognize are: LabCorp, IQVIA, Syneos Health, and Parexel.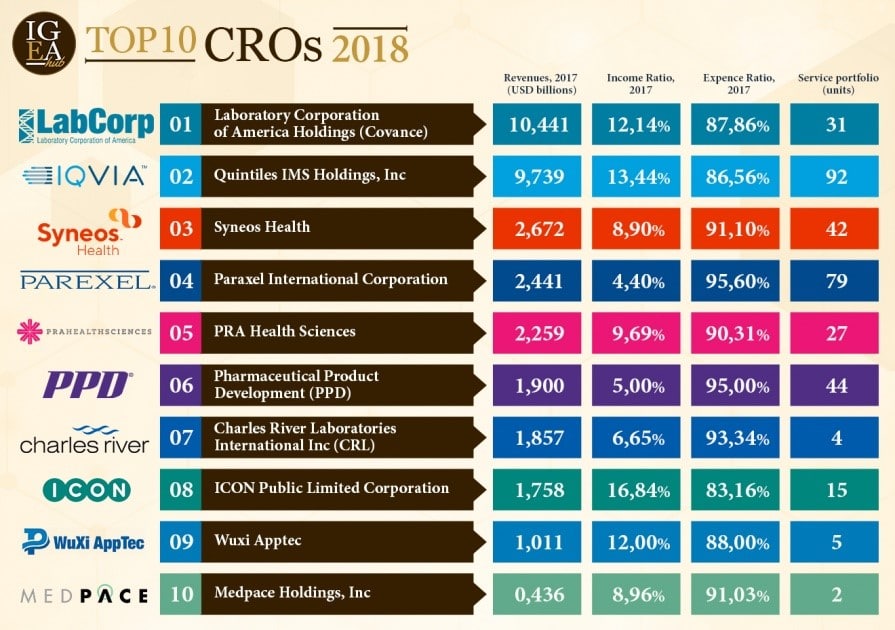 These top preforming CROs are known for their unique attributes. Understanding their differences and specialties will help you better understand how to choose the right CRO for you. Below are a few of the top 10 CROs, and what makes them unique.

How to Choose Your CRO
Now you should have a good idea of what a Contract Research Organization is and some of the key players. But, before making a decision about what particular CRO is best for your company, you should examine your needs and preferences. Do you value experience or quality? Or both? What are you willing to sacrifice for a lower price? How much is your company willing to spend on hiring a CRO? There are five main things a company should research and ask about when searching for a new CRO: Cost, Quality, Customer Service, Capabilities, and Experience. Below are some things to consider for each concern:
Quality

What the CRO does should be the same quality that you could do in-house. The CRO you choose should have quality assurance (QA) and monitoring. To be thorough, you should review and confirm certificates the CRO claims to have.

Customer Service/Communication

All operations should be transparent and linked with each other. Avoid study meetings where CRO team members don't know the key study points; they should be invested and informed of their client's studies. Agendas and/or weekly meetings should be set in place. There shouldn't be major changes if an individual worker decides to leave the study.

Capabilities

Before you engage, check out their website to see what they are best at. Make sure that your needs are validated. You don't want to go to a CRO that specializes in veterinary work if you need help with a medical device study.

Experience

Review credentials of the project team, and not just the business development. Make sure that they have experience in whatever area you are looking to test in. Does the CRO publish their data that you can confirm? If the CRO has an excellent reputation, they will most likely be able to provide one or two references.

Cost

Cost is arguably the most important attribute of a CRO, especially for startups. When researching CRO costs, be aware of unit costs and line items. A cheaper plan may become more expensive with added fees. Make sure you review the quote and ask them questions. You should ask them if they offer Go/NoGo milestones. Go/No Go milestones allow you to pay at certain 'milestones' as your study progresses in case you would need to pull out for some reason. These payment milestones prevent you from paying full price for half of a study. You get what you pay for, paying a little more for the quality you need is often worth it
Hopefully now you have a better understanding of what a CRO is, what they do, and how to choose the best CRO for you. If you want to learn more about CROs and how to effectively collaborate with them, read more here.
Frequently Asked Questions about Choosing the Right CRO

What services are underprovided by CROs, and what will have the most growth in the next few years?

In response to the COVID-19 pandemic, the vaccine, infectious disease, and rare disease services seem to be expanding. The CROs need to jump ahead to bring their expertise to help companies looking to develop new treatments for coronavirus and new diseases.

What about CROs for medical devices?

Some of the top-performing CROs are heavily involved in the medical device industry. They have experience that they can use to help a medical device company properly carry out their studies. Despite the differences in industries (clinical, medical device, preclinical, etc) the same tips from above can be used to narrow your search for the right CRO.

How does pricing change for different CROs?

A highly-qualified and valued CRO is going to price their studies for what they are worth. When a lower cost is presented but the lab is overseas, be careful that line items like shipping and permits do not make the cost higher in the end. Oftentimes, domestic does not mean better, but one should pay attention to the overall cost, not just the quote they first give you.

What about CRO startups?

When you create a CRO start up, the first thing you should look for is your competitors. What is valuable to them, and what can you provide that they can not?

Is there a database for CROs?

A database can be found here. What is also similar is searching through your network and the internet. Use PubMed and search for clinical trials to see if they have experience and if they have been published. This also gives you a way to find references to contact.

Will CROs continue to focus on COVID-19?

As of now, many CROs that are willing and able to help stop this pandemic are doing so. The CROs that are not able to help with the pandemic are likely to continue with their normal work.
This content comes from a webinar co-hosted by University Lab Partners and ScienceDocs, with speaker Dr. Judith Gorski. Dr. Gorski is a pharmacology expert who has had 20 years of experience working in the life sciences industry. She has worked as a Principal Investigator at Merrick and Co Inc. and a Senior Developer of Business Development at Crown BioSciences. Through these experiences, Dr. Gorski has developed expertise in researching and working with various CROs. Dr. Gorski shares what a CRO is, who are the top performing CROs, and how to choose the right CRO for you and your company.
To see the full webinar, and access more resources, check out our Youtube Channel and follow our Twitter account to get updates about University Lab Partners.