With a growing culture of innovation and disruptive technology, the startup scene has been growing at an accelerated pace across the United States. This growth has assisted with the cultivation of a healthy startup community that has more tools and options for success than ever before. The availability of these tools heightens the possibility of ongoing success by providing startups with low cost and flexible resources to a resource starved industry.
While a startup endeavor comes with some risk, these risks are largely mitigated because of such options as low cost coworking spaces and wet lab incubators. No matter the industry your startup operates in, the availability of flexible coworking spaces provides you with however much office space you need without requiring you to dig deep into your budget, which means that your money can be better spent on growth. Any startups within life science and medical industries can benefit from the availability of wet lab incubators, which provide high end and technologically advanced laboratory equipment at an affordable rate.
While you're considering all of your options for growth, you'll likely notice that you can select between incubators and accelerators. Both of these options give you access to expansive networks, tools, and resources, which will help you progress your startup from its initial stages to a company that has attained success. Deciding to join an incubator or accelerator could be exactly what your startup needs to take off -- however, there are a couple of key differences between incubators and accelerators that you should be aware of before making your final decision.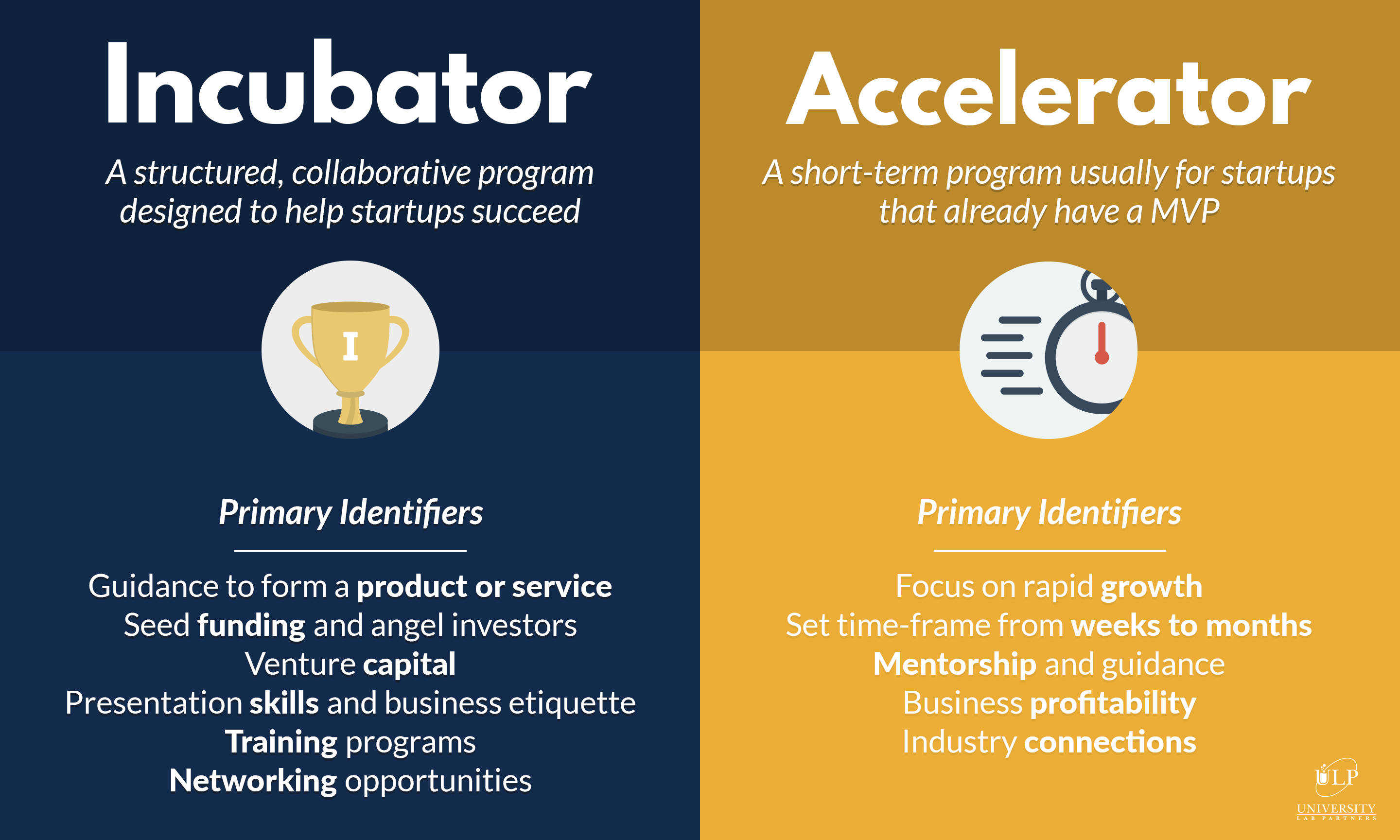 Incubators
If you've thought about joining or creating your very own startup, you've likely heard about incubators. A startup incubator is essentially a structured, collaborative program that's designed to help startups succeed. When you participate in an incubator program, you will often be provided with access to office space, wet and dry labs if needed (depending on your industry, these are particularly common in medtech and bioscience focused incubators), and conference rooms for any meetings or larger events that you would like to hold. All of these amenities are provided to startups for the sole purpose of helping them find success.
Many of the more successful incubators have been started in partnership with a university or business school, which allows members of the incubator to have access to some of the resources available through the university. The majority of incubators are available for startups across all types of industries. For instance, some incubators are designed specifically to help environmentally conscious startups gain a foothold in the green industry, granting the education, network, and resources needed to further the development of the startup. Given how many incubators have formed in the past decade, you're certain to find one that accommodates the industry you operate in!
When you're thinking about joining an incubator, you should expect to be provided with all of the features that you would typically see in an office setting as well as a variety of amenities that go beyond those basic features. As an example, many incubators will offer additional resources in the form of assistance with business basics, workshops that center around different facets of creating and growing a startup company, and help with regulatory compliance and intellectual property management.
A key difference between incubators and accelerators is that most incubators may not enforce time limits but will instead provide their workspace areas and amenities on a daily, weekly, or monthly basis to be used for as long as the startup requires it. Startups within the tech and pharmaceutical industries spend an average of 1-2 years in an incubator. The types of startups that incubators appeal to the most include ones within information technology, electronics, health care, pharmaceutical, and agriculture industries.
While incubators are mainly designed to help your startup grow, they can be used early in the process of building a business. If you need to hire employees or team members for your startup, an incubator is the perfect place to find driven, like-minded individuals. These programs will also put you in contact with angel investors who may provide you with initial capital as necessary. From education, to network events, to funding -- anything that you need to fully launch your product or idea can typically be found within an incubator.
Primary identifiers of an incubator include:
Guidance that will help you form a product or service for your startup
Seed funding, which means that you'll have access to angel investors and venture capital opportunities
Assistance with presentation skills and business etiquette
Full-scale training programs that help startups create a successful business plan
Extensive networking opportunities that can prove highly beneficial in the first year of running a startup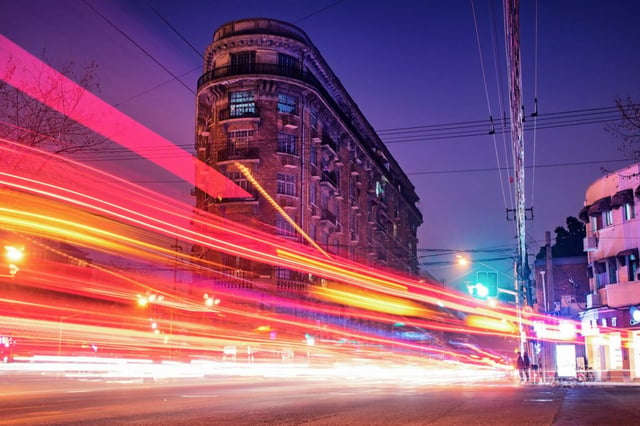 Accelerators
While incubators are designed to be used by entrepreneurs and startups that have a kernel of an idea for their business and are looking to formulate this idea into an actual product or service, accelerators are meant to be used by startups that already have a minimum viable product and may have been fledgling as of late. As such, accelerators are almost always used by startups that are further along than the ones that join incubators. While incubators are usually pretty selective when it comes to admitting companies into their programs, accelerators are considered to be even more selective.
For your business to be accepted into an accelerator, it's essential that you're looking to grow your company from the initial stages of a startup into a full-fledged business. Startups that are accepted into accelerators will need to show that they are looking to scale their operations and reach profitability. In turn, the accelerator program will provide the startups that have joined with the workspace areas and resources that they require to reach these goals. They will also be provided with access to industry connections and leaders that can help guide them through the typical hurdles that come with rapidly growing a business.
Accelerators are designed first and foremost to be short-term programs that last for a period of 3-6 months in most cases. It's essential that you only consider joining an accelerator when your business is at the right stage. When you join one of these programs, you should mainly be looking to get to a point where your business can be self-sufficient and stable.
The startups that join incubators will have just recently formed, which means that they are still looking to create a product or service that can be taken to the market. It can be counter-productive to the ongoing success of your startup if you enter into an accelerator before you're ready to do so. Since you have a limited period of time in an accelerator program, it's important that you take full advantage of the resources that are provided to you.
Among the most beneficial facets of an accelerator is that you will be put into contact with one or more mentors that are tailored to meet your exact needs. As such, the mentor that you're paired with will likely work in the field or industry that you operate out of. Accelerators are particularly common for startups in the healthcare technology and information technology industries. Before applying to an accelerator, keep in mind that most startups that enter into one of these programs focus on expanding their operations, making improvements to their branding, and obtaining management coaching. If your startup is not yet ready for these phases of building a business, you might want to consider an incubator to help your business and concept mature before moving to an accelerator.
Primary identifiers of an accelerator program include:
A core focus on rapid growth
Programs with a set time-frame that can be anywhere from a few weeks to a couple of months
The provision of tailored mentorship and guidance
Highly precise program goals that center around scaling the business and reaching profitability
The ability to meet and make industry connections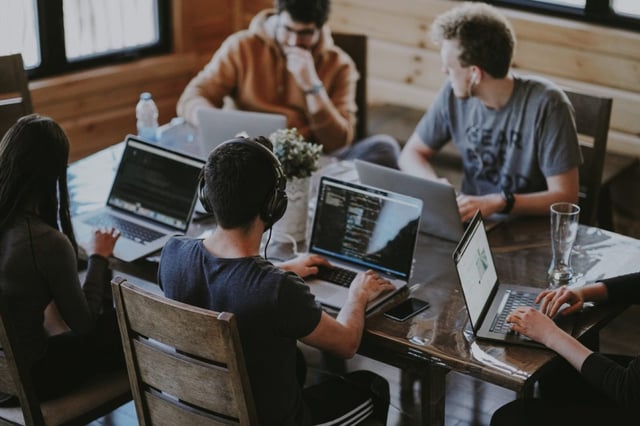 Incubator vs Accelerator: What's Right for You?
While incubators and accelerators are very similar, choosing between the two actually isn't too difficult of a choice. While the final decision is based on your team's preference, the differences between these two programs should help you determine which of these options would be best for your company. Overall, it's essential that you make this decision based on the needs of your business. It can actually be detrimental to the success of your startup if you join one of these programs at the wrong time, which is why it's important that you identify your primary business needs before even considering joining an incubator or accelerator.
Along with the preference of your team, take a look at how much capital is currently available to your startup. If you still need to raise capital for your startup and your initial business plan, it's highly recommended that you join an incubator. The best incubators provide access to numerous angel investor groups that can put you in touch with possible investors. If you've created a product that's ready for the market, it's important that your business is at the size that's necessary to handle the more comprehensive tasks that come with managing a successful business -- accelerators may be better suited to help you get to this point.
Do you need to create a product to place on the market or are you looking to rapidly grow your business? If you have yet to create a minimum viable product or still need to build and develop your team, an incubator gives you all of the tools you need to reach these goals. Accelerators will take your business to the next level and should help you obtain the stability that's so often absent during the initial phases of a company.
At the end of the day, both of these programs are incredibly valuable resources to any startup or entrepreneur. When you want to mitigate the many risks that come with forming a business, both incubators and accelerators provide you with the means to do so!
Conclusion
Still not sure which program may be right for your startup? Contact University Lab Partners, a non-profit & independent wet lab incubator located at the UCI Research Park, and we're more than happy to discuss your business goals and whether our program would be a good fit for you. Contact us or apply now to get in touch!