Biotechnology and medical technology companies are some of the most capital-intensive types of startups. While grants can provide the needed cash early-on, at some point many life sciences startups need to turn to equity investment to reach their fundraising goals.
Equity investment is money contributed to a company in exchange for ownership of shares. These shares grow in value as the company grows until there is a liquidation event or the shares are sold and the proceeds returned to the investors. In most cases, investors have to be accredited as defined by the Securities and Exchange Commission. One exception is for crowd-funding platforms, which allow large numbers of non-accredited investors to buy small stakes in companies. This form of investment was legalized by the JOBS Act in 2015. Various types of accredited investors include angel investors, venture capital firms, private equity firms, family offices, banks, and more.
For a startup, once the decision has been made to seek investment, one of the challenges can be to find appropriate investors. Most investors have defined industries in which they prefer to invest, and many restrict their investments based on where the startup is in their fundraising life cycle. Some prefer to invest in more mature companies that have already undergone multiple rounds of funding, while others invest primarily in early-stage startups. The earliest investment round is often called "pre-seed," or the "family and friends" round, referring to the common recruitment of funds from people the founders already know. The next round is called the "seed" round, and this is where most startups will first go in search of accredited investors.
A well-developed network of contacts helps immensely with the task of fundraising. However, as time is frequently the limiting factor for startup founders, centralized platforms have arisen that provide startups with access to many hundreds or even thousands of investors at once. These platforms vary greatly in their size, cost, industry focus, processes, and terms of investment. Read on to learn about the major funding platforms that include life sciences investors.

Equity Crowdfunding Platforms
These sites are meant to make investing in startups accessible to the average person. They tend to favor startups that have easily explained ideas and therefore are not popular options for most life sciences companies. However, some have found success via this route.
SeedInvest is an equity crowdfunding platform that also works with accredited investors. They screen startups prior to allowing them on the platform. Startups pay fees only if fundraising is successful, and an instant-quote tool is provided prior to application. Fundraising is conducted on a pre-determined schedule, so use of the platform is time limited. SeedInvest is not geared specifically toward biotech or medtech, though they purport to be industry agnostic. Healthcare and genomics are listed as industry categories.
Cost to access: Free to apply but costs $7.5% of the company's raise as a placement fee plus 5.0% of the raise as an equity fee, and up to $3000 in accounting fees; startups only pay if the raise is successful
Number of investors: 300,000
Types of investors: crowdfunding and accredited investors
Investment stage: Seed stage
Industry: Non-specific
Process: Companies apply for "pre-qualification" to raise funds
Wefunder focuses on simplifying the crowdfunding process for companies that are not yet selling a product. They work with companies looking to raise between $20,000 and $5,000,000. There are few biotech or medtech companies on the platform, but some have been funded. The platform allows each company to designate a lead investor who will sign the legal paperwork on behalf of all the Wefunder investors. In addition to simplified crowdfunding, Wefunder promotes its community and access to experienced founders. It also offers a preperatory program for companies that wish to apply to Y Combinator, of which Wefunder is an alum.
Cost to access: Free to sign up, only pay if funded (7.5% of total funds raised)
Number of investors: 587,048
Types of investors: Crowdfunding
Investment stage: Seed
Industry: Non-specific
Process: no application, create a profile, choose a lead investor, Wefunder completes legal paperwork, then starts campaign

Angel Networks
Angel investors are usually high net worth individuals who have an interest in supporting startups. As such, they frequently work together in networks to evaluate potential investments, conduct due diligence, and syndicate investments to better support strong startups.
FundersClub evaluates all startup applicants and only admits about 2% to the platform. They have an online application portal, but strongly suggest getting a warm introduction from one of their portfolio companies if possible. FundersClub lists their team, network, community, and resources as benefits of working with them. They are heavily tech-focused, so healthtech and some medical device companies may do well here, but biotechnology is poorly represented in their portfolio. The platform does not charge fees directly to startups—rather, fees are collected from FundersClub investors.
Cost to access: Free to apply
Number of investors: 24,000
Types of investors: Angel investors
Investment stage: Seed and series A
Industry: Non-specific
Process: apply, initial review, investment committee review, profile creation, panel review, fundraising, ongoing partnership
Life Science Angels (LSA) is a Bay Area-based nonprofit organization that focuses exclusively on healthcare. They do not charge startups any fees to apply or take any fees once they are funded. Their funding minimum per startup is $200,000, and if funded the investment is made as a single entity. LSA prefers to have either an active or observer seat on the startup's board. They look for companies that have had friends and family invest and have used that investment to reach milestones. They also like to see non-dilutive funding, strong proof of concept or proof of product, licensed IP from universities or research institutes, and disruptive/paradigm shifting ideas. There is an online application process, but LSA recommends that startups work to be referred by LSA members. Once the initial investment is made, LSA participates on average in 2 additional funding rounds per company. One of the perks that LSA members provide to portfolio companies is free advice and mentorship.
Cost to access: Completely free
Number of investors: 130-150
Types of investors: Angel investors
Investment Stage: Seed
Industry: "full spectrum of healthcare discovery and delivery"
Process: apply online, internal notification to members, "hot deal" evaluation, assignment of LSA fellow to review application; in-person screening; dinner meeting & due diligence lunch; final due diligence & closing; post-investment involvement
Golden Seeds focuses on women-led startups in a variety of industries, including life sciences. The CEO does not have to be female, but they require that at least one C-suite executive is, and that she have significant ownership and influence over the company. They prefer to invest in companies with a starting valuation below $5 million and asking for between $250,000 and $2,000,000. Golden Seeds' network of angel investors includes more than 275 members. They also work with a family of venture funds and their Knowledge Institute to bring education and expertise to their portfolio companies. Importantly, they do not invest in companies that have previously participated in equity crowdfunding.
Cost to access: $50 non-refundable application fee
Number of investors: over 275
Types of investors: Angel investors
Investment stage: Seed
Industry: "B2B & B2C technology, health care, and consumer products or services industries"
Process: several pitch presentations, followed by 4 to 8 weeks of due diligence, legal and accounting diligence necessary to document the investment
Tech Coast Angels (TCA) is a Southern California-focused angel network comprised of over 400 members. These members are broken into regional networks from the Central Coast in the North to San Diego in the South. Members invest individually, rather than as a single entity as some angel networks do. TCA looks to fund companies in the range of $50,000 to $1,000,000. They prefer companies who have completed some market validation and that can dominate that market with at least 25% market share of a well-defined niche. They also want to see companies with a "sustainable competitive advantage," which in life sciences generally means intellectual property that blocks competition.
Cost to access: No fee to apply
Number of investors: Over 400
Types of investors: Angel investors
Investment stage: Seed
Industry: Tech-focused including life sciences
Process: web application, initial review, pre-screen presentation, screening presentation, due diligence, monthly lunch/dinner meeting, funding

Investor Databases
Rather than providing startup information directly to investors, these sites provide access to curated databases of investors that startups can then reach out to on their own. They generally provide the ability to filter investors by different criteria as well.
Though some functions are accessible through the free version, most of the benefits of Crunchbase require users to buy Crunchbase Pro. The primary differentiator of Crunchbase is its wealth of data and variety of ways to aggregate that data. Crunchbase is designed to not only help startups find investors appropriate to their industry and stage, but also to facilitate market research. Though not designed specifically for biotech and medtech, these are available filters when searching for investors.
Cost to access: Free version but requires Pro to search investors ($29/mo/user)
Number of investors: 3700 firms
Types of investors: Angel, fund-of-funds, venture capital, and more
Investment stage: seed, early stage venture, late stage venture, private equity
Industry: non-specific
Unicorn Nest offers a single service for startups. It uses its algorithm to generate a list of investors that it determines would be a good fit for the startup. Companies sign up using their LinkedIn profiles and input information about their startup. The site then produces a list of funds that are a "match" for the company, and a downloadable Excel spreadsheet including the decision makers for each fund.
Cost to access: Pay-per-search, amount undisclosed
Number of investors: 39,000
Types of investors: Funds
Investment stage: "startup"
Industry: no stated industry preference
MassInvestor is a database that includes many different types of investors. Companies purchase access and are able to use the inbuilt filters to find investors who are interested in specific industries, stages, and regions. The database is updated regularly with new firms and partners and their contact information. MassInvestor allows users to download Excel spreadsheets of their search results.
Cost to access: $795 per year
Number of investors: 5,000 firms
Types of investors: Many, including Angels, VC's, funds of funds, family investment offices, etc.
Investment stage: All
Industry: Open to all industries including life sciences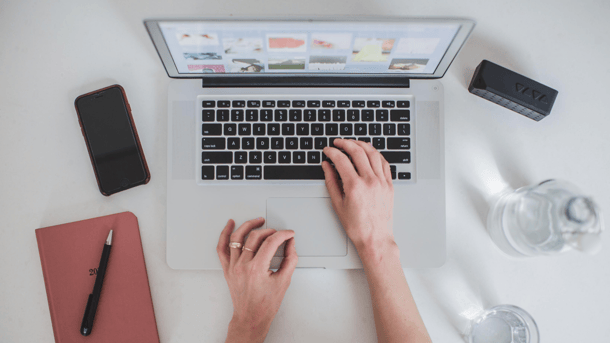 "Platform for Startups"
Angellist does not quite fit into any of the above categories, though it started out most similar to an angel network. Now it has incorporated additional functions for startups, as stated below.
Users can create personal profiles as well as company profiles. With an account, users can search through other members of the platform, including for investors. Investors can be sorted by location, role (type of investor), the market they invest in (biotech/medtech would fall under "healthcare"), and company. Angellist also serves as a talent acquisition platform for startups. AngelList has some qualities similar to LinkedIn but targeted toward startups.
Cost to access: Free to create profiles
Number of investors: 44,931 investors
Types of investors: Mostly angel investors but also seed funds and VC's
Investment stage: Seed
Industry: Non-specific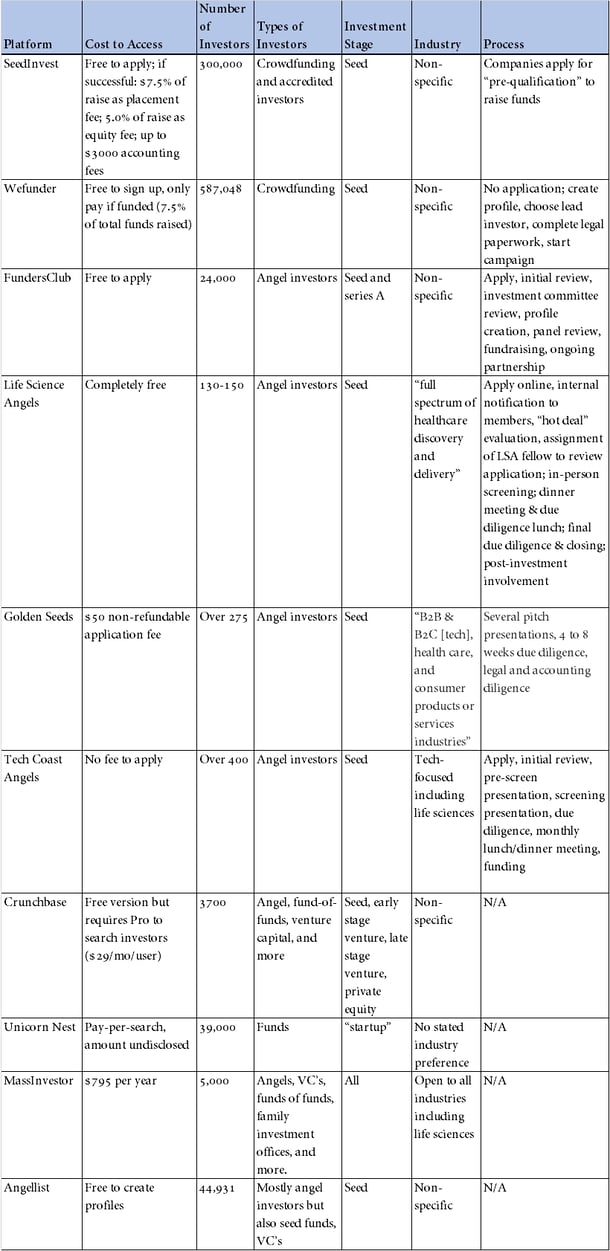 It's About the Numbers
These resources are solid places for entrepreneurs to begin their fundraising. Although there is significant skill involved in raising money from investors, it is also a numbers game. These platforms provide the ability to find and/or contact many investors at once, which can save time for founders. Most sites (with the exception of investor databases) list their portfolio companies. Examining the portfolio companies is often the best way for startups to see if one of these platforms will work for them—if they have funded companies in the same industry vertical before, they are more likely to do it again.
It is still up to each startup to impress the investors, no matter how they are found. To learn more about how to effectively present to an investor, see our previous post on biotech pitch decks.