The SBIR/STTR grant application process is extremely competitive and potential applicants are encouraged to be well-prepared before presenting their case. See how incubators and/or lab space providers can be an essential partner to improve your SBIR/STTR grant application.
SBIR/STTR Grant Process Overview
The Small Business Administration annually facilitates funding programs the Small Business Innovation Research (SBIR) and Small Business Technology Transfer (STTR) grants to partner the United States Federal Government with small businesses enabling research/research and development on the path to commercialization.
America's Seed Fund
SBIR/STTR grants, also referred to as "America's Seed Fund," are an organic way to realize commercialization for select high-potential companies seeking assistance. The grant program structure consists of three Phases.
Phase I: an applicant looks to lay some sort of foundation and establish technical merit, feasibility, and proof of concept. Grant amounts for Phase I normally do not exceed $150,000 and are established with a 6-12 month timeline to enable research/research and development.
Phase II looks to continue the R/R&D efforts put forth in Phase I with an aim to really finish and commercialize a product or service. Results from Phase I will determine funding eligibility amounts for Phase II, which normally do not exceed $1,000,000 for two years. Technical and scientific merit should be well-established at this stage, and applicants have roughly a 30% acceptance rate. Phase I presents 15-25% acceptance, but with 25-30% of applications not actually competitive, the real Phase I number is closer to 30%.
Phase III is all about commercialization following R/R&D efforts through Phases I and II, with likely no more SBIR/STTR Grant funding available. The U.S Government may also offer contracts at this juncture, for continued R/R&D and potential use of the product or service developed.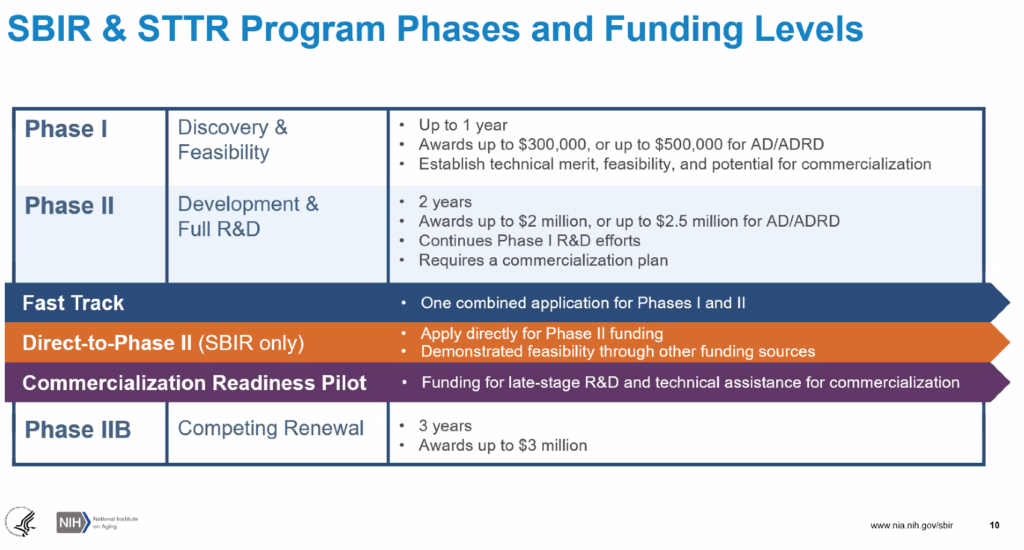 What is the Application Structure?
The SBIR/STTR grant application structure consists of several pieces to be reviewed: Abstract and Summary, Specific Aims, Significance, Innovation, Approach, and Other. This Other may include References, Protection of Human Subjects, Facilities and Resources, Budget Justification, Commercialization Plan (Phase II), and Introduction to Revised Application. After planning, consulting, and setting specific goals, a prospective applicant continues with grant creation. An incredible amount of writing and rewriting will be expected during the grant creation process. However, the actual writing is ultimately not as important as precise content presentation.
Once a grant application is submitted, the NIH's Center for Scientific Review (CSR) assigns a Scientific Review Group (SRG) to assess the content. Jim O'Halloran, President at NeuroComps Systems, Inc. and SBIR grant writer with ScienceDocs with 25+ years of experience, says about 50% of applications are dismissed before discussion due to time and resources, and a low impact score. This creates a tighter competitive pool of candidates, where professional presentation and serious preparation are crucial. Ambitious applicants utilizing experienced resources will have the advantage.
The SBIR Review Process:
An initial review takes place on the first day off-site and, following a first score satisfaction, the application may be discussed among reviewers.
A second score satisfaction and second day of discussion will follow.
The CSR will then send the application to NIH with assessments and determination of funding. If funded, the applicant will follow Phase I guidelines and proceed with R&D as discussed. If a grant is not awarded, the applicant may revise and resubmit the proposal according to the reviewers' suggestions.
Incubators can improve your SBIR/STTR grant application in many ways.
Incubators can provide access to trusted advisors and consultants who can provide their expertise.
Trusted consultants may:
Pre-review applications. This will require an experienced consultant in reviewing SBIR/STTR proposals.
Review of applicant's technical plan – what the applicant will do with the money.
According to Dr. Molly Schmid, some items that are commonly missing are:
Technical detail - This is not the time to be secretive, or coy. Technical reviewers need to know what you intend to do with the money that you are requesting.
Patent applications - If you haven't filed a patent application, then you should do that prior to filing the SBIR/STTR proposal.
Milestones and metrics - For most agencies you need to provide some type of aims, usually 2-4 technical aims. To accompany EACH of these aims, the applicant should provide a specific milestone that will be met, answering the question, "How do you know you have accomplished this goal?" What specifically will you measure? What measures will be "YES, this is good enough," and what will be "NO, this is not yet good enough. We need to keep working."
The reviewers know that the "devil is (often) in the details."

Answer these very important questions: What are you going to do? How are you going to do it? What will you measure? How are you going to measure? They want to know that you've thought through what you are going to do, how you are going to do it, and what issues may arise.

Molly Schmid, PhD, Senior Consultant, SBDC @ UCI Beall Applied Innovation
Incubators can help applicants develop the cost proposal.
Incubators can provide actual numbers for costs such as rent, insurance, and consultant fees. Having actual numbers enhances the cost proposal portion of a Phase I or II submission.
Incubators can provide a Letter of Support.
NIH applications get an Environment score. Reviewers want the following questions answered:
Will the scientific environment in which the work will be done contribute to the probability of success?
Are the institutional support, equipment and other physical resources available to the investigators adequate for the project proposed?
Will the project benefit from unique features of the scientific environment, subject populations, or collaborative arrangements?
Incubators can provide specific details about its unique facility capabilities, scientific equipment, and innovation community available to the applicant by providing a Letter of Support. Reviewers want to be sure that the applicant has access to the necessary equipment and facilities needed to perform the work.
Building a relationship with the future home of your start-up take your start-up from a concept, one-step closer to commercialization. Besides knowing how incubators can improve your SBIR/STTR grant application, find other reasons Why Start-Ups Need Incubators.
Have any other tips to improve your SBIR/STTR proposal? Tell us about them by tweeting @ulpirvine.
Check out our events page for upcoming SBIR/STTR webinars or watch replays on-demand on our YouTube Channel.